I was ready and determined to look for musicians to make up a full band. I already had a drummer, a guitarist and a keyboardist in mind. The first person I reached out to was Flavio, who was playing with me in those side projects I mentioned before. He always pushed me to record my songs and make something more serious. The second person was Ralf Caetano, a really skilled guitarist who stopped playing music live by option. Then, I reached out to Bobby Lopes, the drummer. Bobby has 30 plus years of music experience and with several genres played throughout those years, he was the perfect fit for the drums position. Like always, the missing piece was the bassist. I put up an ad looking for a bass player and I got more answers than I was expecting, lol! I decided to choose Denis, a guitarist who was starting to play bass guitar looking for a first band to develop his bass guitar skills.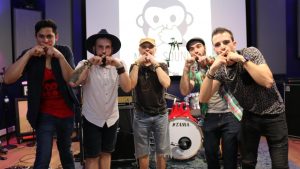 After a few months and with the Pandemic restrictions lessened, we performed our first show at 'The Port Music Festival', with our act being recorded at our rehearsal studio. We received some great feedback from the show. With a presentation show booked for a month and half later, our bass player decided to leave the band. It wasn't really an unexpected decision. I always felt that coming, so that's why I never lost contact with some of the guys who answered the ad I had put up when I was putting up the band together. However, Denis did an excellent job doing his time with "Mute Sounds" and we will always be much appreciated for what he did.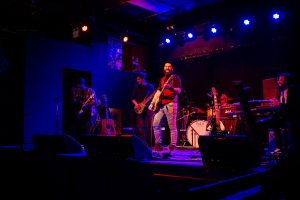 Time to reach out to some of the guys who answered before and to our luck we found the perfect fit, Luis Ramirez. He is an incredibly skilled 6 string bass guitar player who fell in love with the songs once he heard them. "Mute Sounds" was finally complete. I always looked for good musicians, but my main criteria was always the person's character first. Let's be realistic here, how can a band works with incredibly virtuous musicians if they all ended up being sh*tty people?! So, character first, music skills after. And that's our secret guys, this small family we created that goes to every stage and "blew up" the roof out of it! Our first ever in person show was at the mythical "Lee's Palace" in Toronto. A place which hosted bands like Nirvana, RHCP, The Verve, Blur, Oasis, Smashing Pumpkins and many more. What a way to start! Along with that show, we also had our first Toronto based online magazine show review, by Blast Toronto (link below).
MUTE SOUNDS AS A VOICE AND IT SOARS!
Now, it's time to head to "The Painted Lady", another mythical music venue, on December 22, 2021 and we are expecting to see you guys there, right before Christmas! I hope my journey has resonated with many of you and you can feel my story through the chords. Can't wait for what is in store for Mute Sounds, but until then, see you all soon!